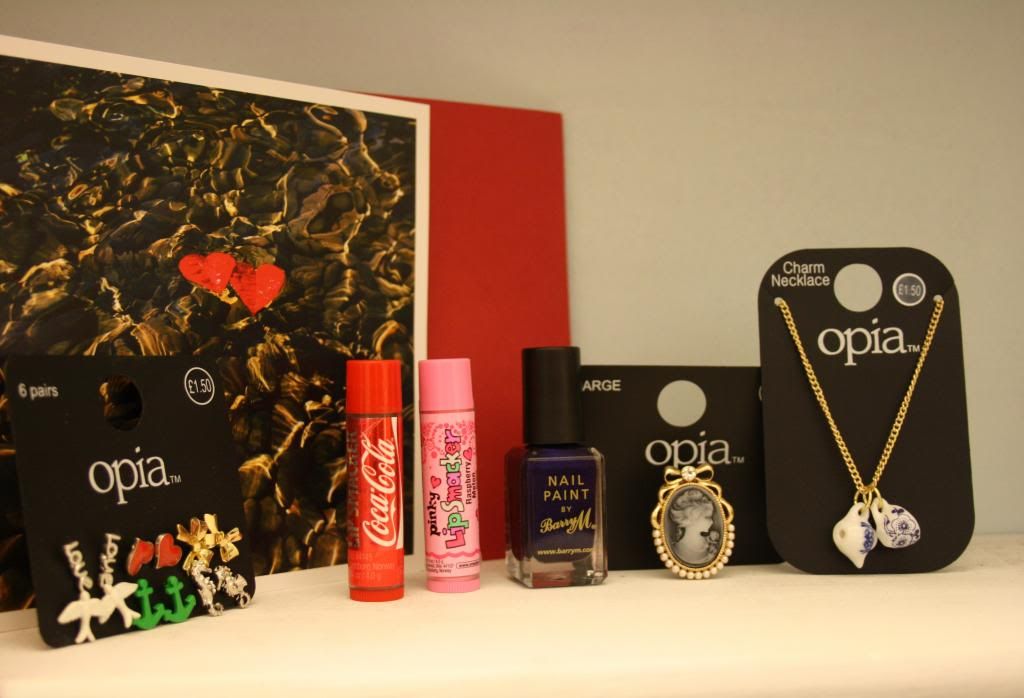 After signing up for the secret santa exchange on the board I post at (you probably all know which one :)) I loved it so much, I've decided to do the valentines secret admirer one. Ahhh I seriously love snail mail and what makes it better is not knowing who it's from or when it's coming.
Last time I did it, I felt kind of bad because I'd received so much but I'd only sent a card with some stickers. So this time I've decided to give a little more and I really hope the person I've got likes the stuff I've bought!
I've bought them two lipsmackers (because they were on the counter and looked cute), some Barry M nail polish (because they don't have it there and Barry M is like, England's answer to OPI hahaha), and some cute jewellery from Primark.
I also went to Hollister today. I don't usually buy their clothes, NOT because I don't like the designs but because EVERYONE wears that stuff now. I don't know, I think I'm just instantly put off things that are everywhere. The store was seriously crowded though and to make things worse it's all in the dark. I managed to fight my way through however to buy a t-shirt and some spray for my friend's 18th birthday. My bank account's feeling a kick this month, there's so many people turning 18. The wrapping paper is from Christmas but who cares it's cute.
I bought some collection 2000 concealer today, I wouldn't normally go for that brand but my friend said their foundation was pretty good. So I tested out their concealer and it is actually REALLY good! Another thing I've bought recently is the Urban decay primer potion, there's been so much hype all over the internet so I thought I'd see what the fuss was all about. When I was applying eyeshadow over the top of the primer I didn't think it was anything amazing, but when i got out of the bath I realised why everybody's been talking about it. I'd rubbed my eyes but it was still there! In perfect form, not smudged or anything. In fact, I'm a bit worried I won't be able to get it off for college tomorrow morning. Bought some sunglasses today too, I've always wanted a pair of Ray-ban Aviators but Primark's £1 version will have to do for now.