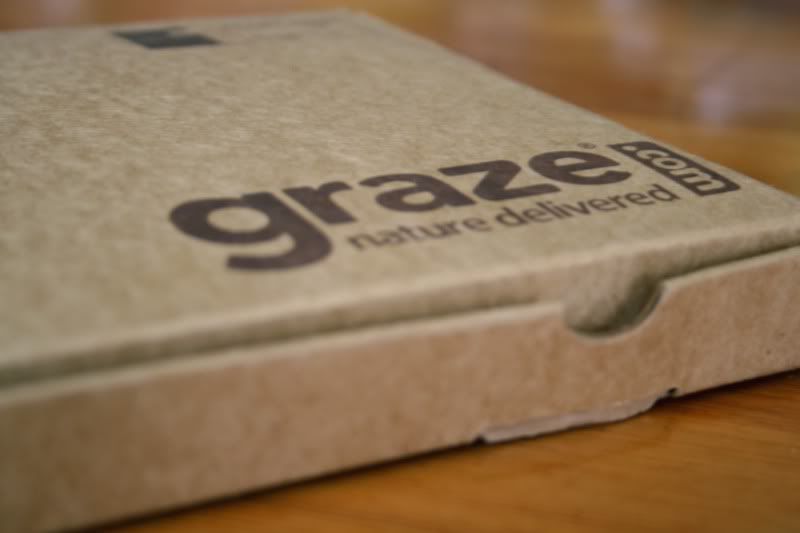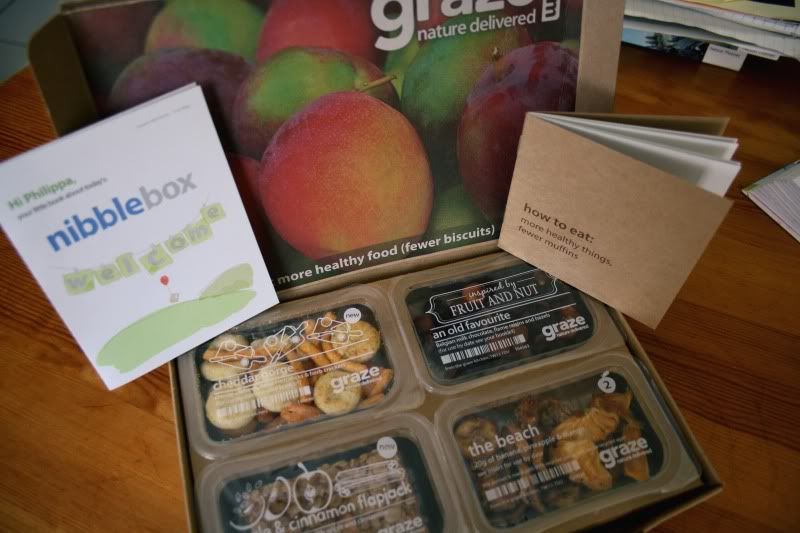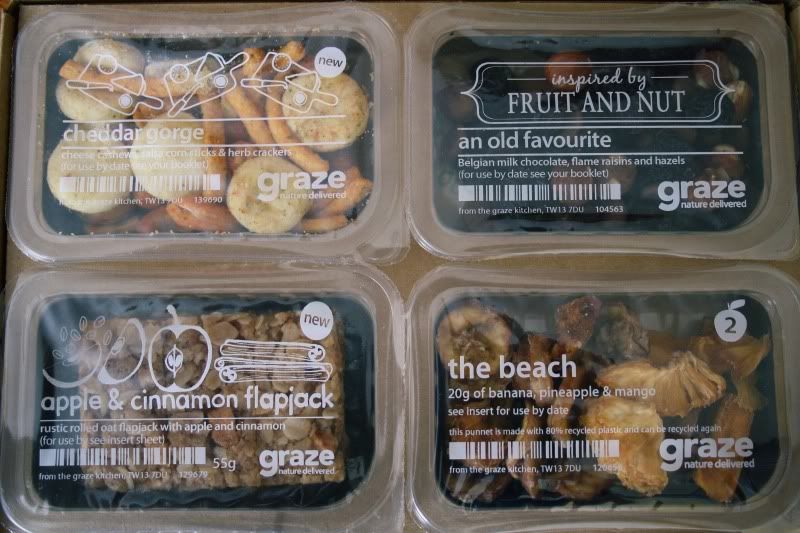 After anticipating its arrival for a week, my Graze box finally came today! Graze specialise in healthy snacks There are about 100 different punnets, I'd recommend that you look through the list and pick what you'd like to try so they know what to send you. I was sort of surprised about how small it was, I was expecting each punnet to be the size of a chinese take-away box but they were more matchbox size. In a way, I don't blame the company, after all it was free. So moving on to the mini review of what I got, I received: 'apple and cinnamon flapjack', 'fruit and nut', 'the beach' and 'cheddar gorge'. The apple and cinnamon flapjack was so yummy I'd rate it 10/10! 'The beach' was made up of dried mangoes, pineapple and banana, I'd give it a 7/10. The fruit and nut was chocolate drops, hazelnuts and raisins which was nice but a bit plain so I'd give that a 6/10. The 'cheddar' gorge was probably my least favourite because there were cashew nuts in there and I'm just not very keen on nuts. So I'd rate it a 4/10.
If you want to try some of their healthy snacks I'd say go for it since it's free, but for me I don't think I'm going to continue ordering anymore. They're good if you're trying to lose weight and need an alternative snack to biscuits. After the free box the next is half price and then they're just over £3 each. I don't really think it's worth it considering the size, but it's up to you to decide. I've got a free code to give to people to get their first box free, R9TQLXD. I'm not really sure why they offer a code because everyone gets a free box when they sign up, but I thought I'd offer it you guys anyway. (Unfortunately you can only order them if you're a UK resident, but if I find any alternatives I'll edit this post.)
I liked the pictures in the box so I made some room for them on my noticeboard. I like to save little things like this.